Doom
From Videogame Morgue File
Doom is a first-person shooter developed by id Software in 1993. It was a highly influential title in the development of first-person shooters, as well as playing a pioneering role in realtime texture-mapped 3D graphics, networked multiplayer play, and support for a large number of user-made levels and mods. Doom is also notable for its tremendous success outside traditional 'boxes on shelves' retail channels, originally being distributed under the shareware model.
Production
[
edit
]
Sketches
[
edit
]
Screenshots from early versions of Doom can be seen at Unseen 64's Doom [PC - Alpha / Beta] page.
Previews
[
edit
]
Reviews
[
edit
]
Interviews
[
edit
]
Miscellany
[
edit
]
Further Reading
[
edit
]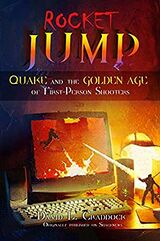 Rocket Jump: Quake and the Golden Age of First-Person Shooters
David Craddock
Based on interviews with the developers, Rocket Jump explores the making of the Quake franchise, the culture that simultaneously shaped and fractured creator id Software, and other developers whose creativity defined an era. Mostly Quake-centric, but some material on Doom.
ISBN N/A